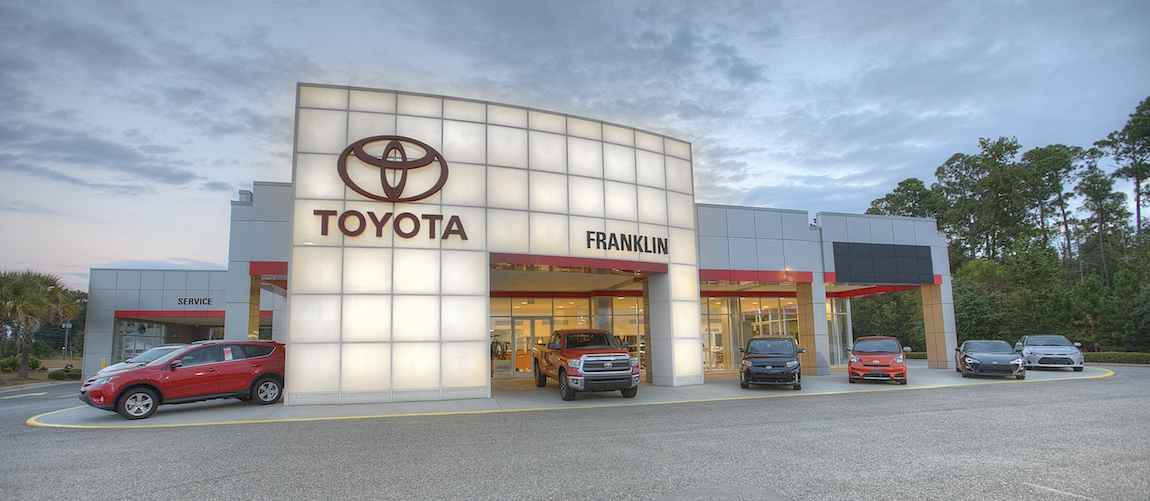 About Franklin Toyota
Dear Friend,
Thank you for taking the time to visit Franklin Toyota's website! We appreciate the time you spend with us and we hope you may take a few minutes to read how we make every effort to make our dealership the best place to handle your automotive needs, whether you're looking to purchase a new vehicle or a used vehicle, or if want to schedule service for your existing vehicle, Franklin Toyota is the place to go. Franklin Toyota is the only family-owned and operated dealership in Bulloch County and our goal is not just to sell you a car, but to provide you with the best people, the best facility, the best equipment and the best products to support all of your transportation needs. We work hard to give our customers award winning vehicles with homegrown customer service. And to help you save, we offer specials on new vehicles, as well as service and parts.
Since 1977, when Franklin Toyota began, we have seen many changes in our business. Certainly, purchasing and maintaining a vehicle today is much more complex than it was then, or even ten years ago. The internet has made a big impact in the "car business". You no longer have to spend your valuable time walking the lots to research a vehicle. Knowing this, we strive to provide you with the most information possible on our website. This is our effort to save you time and to make your purchase less stressful and more enjoyable. We can promise that when you join the Family here at Franklin Toyota, we will have modern, state-of-the-art equipment at your service. But more than that, we appreciate YOU and we will do everything possible to provide assistance to you in any way we can. Experience the Franklin family difference today!
Your complete satisfaction is our #1 Goal!  Visit http://franklintoyotacars.com/ to research our site and the Toyota brand.
When it comes to supporting our troops, we want to do our part. If you are a member of the U.S. Military with current active duty status or a reservist, you may qualify for a monetary rebate toward the purchase or lease of a new Toyota! Retirees or Veterans honorably discharged within one year of service and Household members of eligible qualifying military personnel also qualify!
Thanks,
Franklin Toyota Management Team